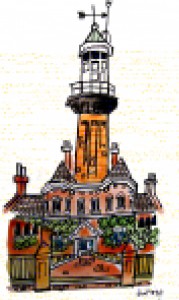 Introduction
In 2009, Wirral Council published a report by consultants Roger Tym Associates that said Hoylake is in "ongoing decline" from which "we do not see any prospect" of recovery. The report was based on extensive retail data, almost no public consultation and responses from approximately 0.3% of the population. And it did not mention the word "golf" once.
It is true that, at the time, Hoylake had an almost 25% shop vacancy rate. However in 2014, Hoylake Vision commissioned a "use classes" survey that showed the vacancy rate had dropped to almost zero. In addition, the 2011 census showed Hoylake has a higher than national average percentage of teenagers, an increase in the working population and a small decline in the number of retired-age people. That tells us a very different story.
Yet, the original 2009 report has informed the council's emerging Core Strategy Local Plan (CSLP) which proposes downgrading Hoylake from a Town Centre to a District Centre. This will become part of a borough-wide Development Plan for the next 20 years.
We're concerned about the impact this will have, because it could affect how Hoylake is perceived by potential future investors and businesses and also have a very real impact on planning decisions.
The Hoylake Neighbourhood Development Plan adds a set of policies created by local people, in consultation with local people, that aims to support Hoylake, both now and for future generations.
These policies must, by law, be taken into account by Wirral Council when making planning decisions.
Hoylake deserves a bright future. This is why Hoylake has a local plan. It also means you now have the opportunity to help us make the next plan for 2020-2025.
Approximately 20% of Hoylake households responded to our original "What's Your Vision" survey in 2012.
Since then there have been 20 public and over 30 forum management group meetings with more than 5,000 additional comments collated. All of that is recorded on this website and we will continue to build that record of consultation as we move to the next iteration of the plan in 2020.
VISION STATEMENT
"To maintain Hoylake as an environmentally attractive seaside town and socially inclusive place to live, work in and to visit. To be a healthier, well-housed community with a thriving economy which values creativity and entrepreneurialism. To support a vibrant town centre, which meets the day-to-day needs of local people and provides high quality food, drink and entertainment opportunities for residents and visitors. To support the town centre and the Carr Lane Industrial Estate as the foci for a wide range of easily accessible jobs."
This website aims to serve four purposes:
To provide a library of supporting reference and evidence that will inform the evolution of the Hoylake Neighbourhood Development Plan.
To invite suggestions for future objectives, priorities and policies.
To invite comment on existing objectives, priorities and policies.
To provide a public record of ongoing public consultation and meetings, including those of the management group.
To provide a public record of representations on relevant planning applications within the NDP area.